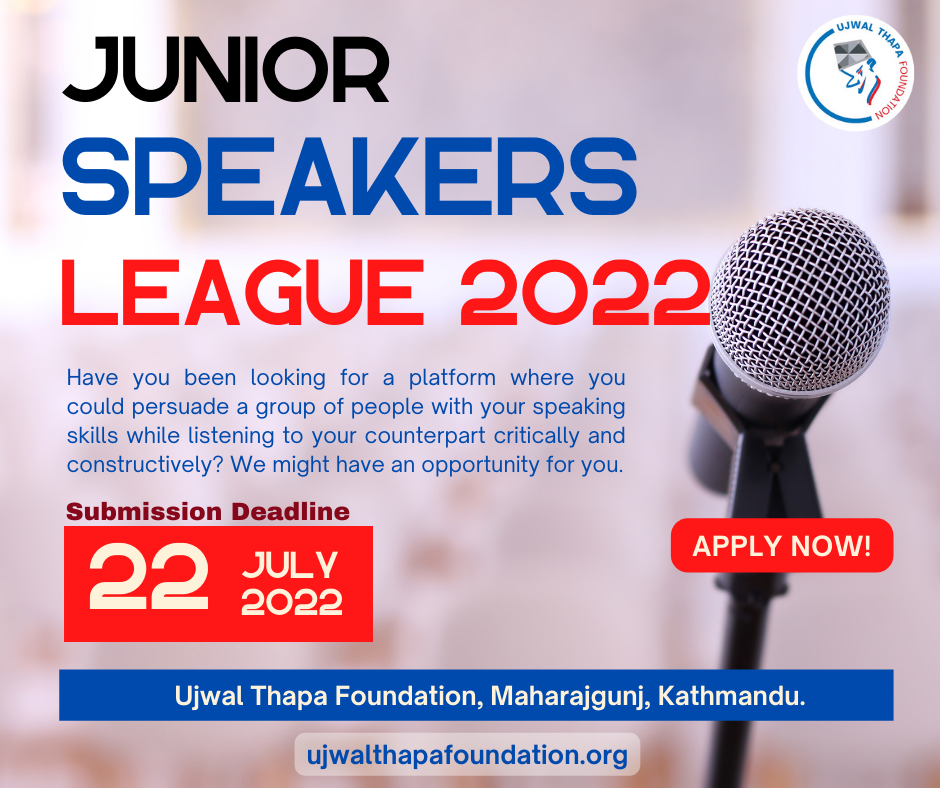 ***Deadline: July 22nd, 2022
Thank you for choosing to apply for the competition.
Ujwal Thapa Foundation is a non-partisan initiative that creates a platform to give continuity to Ujwal Thapa's efforts in various sectors to build empowered, empathetic, and entrepreneurial societies. Our mission is to motivate and enhance human capacity for policy making, leadership development, and movement strengthening to attain collaborative, sustainable, and rapid social transformation in Nepal.
UTF Junior Speakers League is a speech competition among students from grade 8 to grade 10 inside Kathmandu Valley which is a part of UTF Tribes for Transformation. It is UTF's fully funded program to enhance leadership quality in future young leaders. We are looking for young (Teens) leaders from various schools of three districts; Kathmandu, Lalitpur and Bhaktapur. The competition is designed to provide a learning platform for the students. After the selection processes, there will be a physical event where all the selected students will participate in the speech competition program with topic: "Importance of Responsible citizens in society!". In the end of the program, top 10 participants will be provided with one day camp and workshop.
Enthusiastic students from grade 8 to 10 are strongly encouraged to apply.